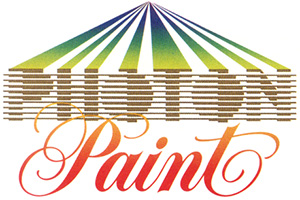 Photon Paint Software for Commodore Amiga
Click on thumbnails for larger more detailed views.


Photon Paint v1.0
Copyright 1988 MicroIllusions
WHAT IS PHOTON PAINT?
Photon Paint is a full-featured Hold And Modify (HAM) paint program for the Commodore Amiga line of computers. It specifically utilizes the unique HAM protocol, which allows all of the possible 4096 colors accessible on the Amiga to be used onscreen at one time.

Many of the features and techniques associated with other popular Amiga paint programs are combined within PHOTON PAINT, including those previously limited to EITHER a 32 color paint program, OR a HAM paint program; for example:
Real-time operation of freehand drawing tools.
The ability to paint in exactly the chosen color, regardless of background color, and to choose between painting the exact color, or allowing HAM to modify it according to the background and adjacent colors.
Three types of fill functions: the standard flood fill, which fills all ad joining pixels of the selected color area; boundary fill, which enables the user to fill an area surrounded by a specific color, and free-shape fill which allows you to outline a free-hand drawn shape to be filled; each having the option of customized blending functions.
All popular brush operations, including flipping, resizing, rotating, and tilting (perspective).
Blend mode, allowing blending of a brush or shape with the background, and smooth, dithered shading.
Some additional features unique to Photon Paint include:
The ability to move the menu containing the brush gadgets and color palette anywhere on the screen, or remove it entirely during painting operations; recalling it from the menu bar, or from the keyboard.
Reducing the size of the brush and color palette menu during work by selecting a toggle gadget which alternately removes and replaces the lower (color palette) portion.
More sophisticated brush operations, including twisting, adjustable transparency, and mouse operated perspective tilting.
Wrapping of brushes onto 3-D objects: both geometric and symmetrical free-hand drawn shapes (surface mapping), with optional light-source specification; setting of optional light-source intensity, and adjustable dithering of light-dependent shading.
Special large fonts allowing specified light source shading; dithering; 3-D effect.
Unique magnification window with built-in gadgets allowing variable sizing of the magnified pixels and scrolling around the magnified image in all four directions.
Choice between transparent or opaque background color, selectable from the menu bar.
64 color palette display, with the ability to alter any color box on the palette without affecting the screen pixels previously painted using the color in that position; thus allowing the use of all 4096 colors in the same painting.
Ability to create palette color spreads using BOTH the Red Green Blue (RGB) AND the Hue Saturation Value calculations.
Ability to specify the 16 base colors in the Amiga's internal color registers; enabling the artist to select the group of colors which will be the basis for all HAM calculations.
---
SYSTEM REQUIREMENTS

512 K RAM MINIMUM; 1 MEGABYTE RECOMMENDED FOR 320 X 400 MODE; EXTERNAL DISK DRIVE RECOMMENDED.

PHOTON PAINT will function properly in 320 X 200 resolution (non-interlaced mode) with a minimum of 512 K RAM. The program's architecture is segmented, allowing full functionality in lo-resolution on 512 K machines. A possible exception could been countered when using the text function in very large font styles of approximately 60pixels high or more.

Overlays will be read from the disk occasionally, depending upon the amount of available memory; therefore a second disk drive is recommended. This will enable the user to leave the program disk in the first drive (df0:), and maintain a separate data disk in the second drive (df1:) for saving artwork.

1 Megabyte is recommended if you intend to work in the 320 X 400 (interlaced mode)format. 512 K will be adequate for many functions, but some operations will be refused due to memory shortages, such as the "undo" function, and spare screen.



Comes with Box, 96 page Manual, Quick Reference Card and
Original Install Disks. Tested in Excellent Working Condition!

see Options above.

Media is Guaranteed Against DOA!