DPS TBC-IV Time Base Corrector & DPS Personal Animation Recorder
for Commodore Amiga 2000, 2000HD, 2500, 3000(T), 4000(T)
Click on thumbnails for larger more detailed views.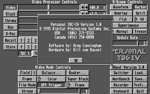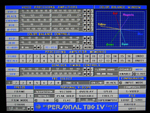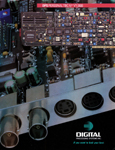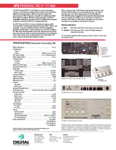 DPS Personal TBC-IV (VT-2600)
Copyright 1991-96 DPS Digital Processing Systems, Inc.
The DPS Personal TBC IV card is designed to work in any IBM PC® compatible or AMIGA® 2000/3000/4000 series computer or in a DPS ES-2000/2200 Series Expansion System. The TBC IV features both composite and S-Video (S-VHS or Hi8®) Inputs and outputs. The TBC IV interfaces virtually any VCR, laser disk player or camcorder to production switchers or computer video systems like the NewTek Video Toaster®. Special Features include Rock Solid Freeze (Both Field and Frame), GPI Freeze, Variable Strobe, Forced Monochrome and Advanced Sync, All video proc amp functions, system timing, scene memories and color balance can be adjusted with DPS Personal Series software. Serial control data is fed to the card via the rear panel mini DIN-9 connector or via an on board input header. The card obtains its power from the expansion slot but does not require any other bus signals.
Features
Composite & Y/C S-Video Inputs and Outputs
Occupies Single ISA Bus Slot
Component Digital 4:2:2 Processing
Compatible with RC-2000/2001/RC-4000 Remote
Film Strobe Effect
GPI Freeze Trigger
Adjustable Proc Amp & Color Balance Controls
Infinite Window Time Base Correction
Amiga/DOS/Windows Control Software
---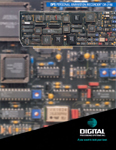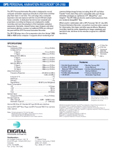 Personal Animation Recorder (PAR Card)
Copyright 1993-95 DPS-Digital Processing Systems, Inc.
The Personal Animation Recorder (or PAR, for short) is a revolutionary tool for computer animators. Used in conjunction with your Amiga computer and animation rendering software, it eliminates the need for a single-frame videotape recorder and controller, while giving you real-time playback of full resolution (752x480, 16 million colors, 30 frames per second) animation sequences.

PAR is actually three tools in one: an animation record/playback deck, a real-time video capture deck for rotoscoping, and a still store with stunning access speed and storage efficiency. Commonly used with Newtek Video Toaster 2000/4000.

Some of the many features of the Personal Animation Recorder are:
Accepts animation frames directly from rendering program
Copies existing image files from Amiga disk drive
Compatible with IFF, Targa, SGI or Video Toaster Framestore files
Switchable filter to prevent chrominance aliasing from IFF files
Project organizer for image and animation files
Real time video capture with variable frame rate, and still grabs
(when used with TBC-IV card, Included)
Animation editing features: join, split, duplicate, ping-pong, reverse, etc.
General Purpose Interface for triggered playback from edit controller
Variable speed playback
Genlockable video outputs with variable timing
Video output formats: composite NTSC, S-VHS, Betacam or MII
Direct access to TBC-IV control screen
System Requirements:
High-capacity hard drive dedicated to Personal Animation Recorder. (INCLUDED)
Amiga 2000, 3000, or 4000 with:
A hard drive with at least 250 Kbytes available for PAR software
At least 1.2 Mbytes of system memory available to PAR
Workbench 2.0 or higher
Animation rendering software such as LightWave 3D, Cinema4D, Aladdin4D, Imagine, etc.
Video monitor and VCR
Digital Processing Systems TBC-IV card for using your PAR card for video capture
---
TBC-IV Card comes with Internal Serial Control Cable,
(2) BNC-RCA Adaptors, copy of Manual and the Latest Amiga/PC/DOS Software Install Disks.

PAR comes with PAR Card, 8.0gb 40pin IDE Harddrive, 40pin 2-Connector IDE ribbon cable,
3" Communication ribbon cable, 1 Y-Splitter Power Cable, 3' BNC-BNC Cable,
BNC-BNC Y-Splitter Cable, 3' RCA-RCA Cable, Rear Port Label Stickers,
copy of Manual in 3-Ring Binder and Latest v2.55 Install Disk an v2.10 Install Disk for Vampire Users.

TBC-IV comes with Amiga 2000 Internal Serial Control cable. If installing into an Amiga 3000 or 4000,
an External Serial Control cable is needed to control the TBC-IV, which can be found here:
External Serial Control Cable
If out of stock, pinouts to make your own cable is in the manual.

All Tested in Excellent Working Condition and
Guaranteed Against DOA!
---
The video below is a direct capture from the PAR composite output.
Looks ok on LCD/LED Monitors, but looks awesome on CRT Monitors.