Caligari 24 v3.0a 3D Model, Render, Animation for Commodore Amiga
Click on thumbnails for larger more detailed views.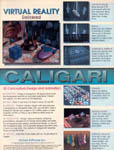 Caligari 24 v3.0a
Copyright 1993 by Roman Ormandy and Octree Software, Inc.

Complete 3D modeler, photorealistic renderer and animator for designers, graphic and video artists, who need to produce first class 3D artwork. The unique interface, featuring direct manipulation of objects, 3D perspective editing and realtime response, allows for fast learning and high productivity. Free Form Deformation editing allows the user to build smooth, organic shapes quickly and easily. Single Point Editing allows the user to finely manipulate polygons. Reads Imagine, Lightwave and DXF Files.

Supports HAM, HAME, AGA, DCTV, Impact Vision 24, OpalVision, Firecracker, Harlequin and others.

Comes with 250 page Manual and Original Install Disks in Excellent Condition!

see Options above.



Disks are Tested and Media is Guaranteed Against DOA!