(2) DPS TBC-III Time Base Correctors for
Commodore Amiga 2000, 3000(T), 4000(T)
Click on thumbnails for larger more detailed views.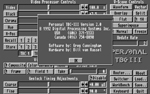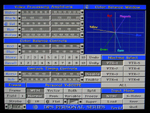 DPS Personal TBC-III (VT-2500)
Copyright 1992-93 DPS Digital Processing Systems, Inc.

Featuring both composite and S-Video (S-VHS or Hi-8) inputs, the DPS Personal TBC III can be used to interface virtually any VCR, laser disc player or camcorder to production switcher or computer video systems including the NewTek Toaster. Special Effects include Rock Solid Freeze (Both Field and Frame), Variable Strobe and Forced Monochrome. The DPS Personal TBC III can be installed in any IBM PC compatible or AMIGA 2000/3000/4000 series computers or in a DPS ES-2000 series expansion system.

All Video proc amp functions, system timing, scene memories and even color balance can be adjusted using intuitive DPS Personal Series software. Both AMIGA and MS-DOS versions are provided. The DPS Personal TBC III is also compatible with the multi-channel RC-2000 desktop remote control. Either scheme permits you to mix and match DPS Personal TBC II, III, and IV cards with DPS 230/235 rackmount TBCs as well as the DPS Personal V-Scope.


Comes with (2) TBC-III Cards, Internal Daisy Chain Cable, Internal Serial Control Cable,
Original 100+ Page Manual, Original Install Disks and
copy of the Latest Amiga/PC/DOS Software Install Disks.
Tested in Excellent Working Condition and Guaranteed Against DOA!
If you need any cables or BNC connectors, you can find some here:
RCA Cables and BNC Connectors