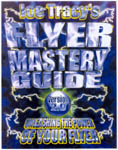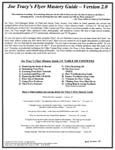 Joe Tracy's Flyer Master Guide v2.0
Copyright 1997, 1998 by Joe Tracy
Joe Tracy, NewTechniques Editor in Chief and former Video Toaster User Editor in Chief, presents the revised and updated edition of his first book for Flyer owners called Joe Tracy's Flyer Mastery Guide - Version 2.0. He was one of the first buyers of Newtek's revolutionary Video Toaster and Flyer when it was first available on the market. He has taught high school, basic and advanced video productions and animation, full time for four years. He's also produced hundreds of TV commercials, infomercials, and TV programs.
Table of Contents - Chapters
Chapter 1 - Mastering The Basics & Beyond
Chapter 2 - Optimizing Your Flyer
Chapter 3 - Learning From Flyer Tutorials
Chapter 4 - Learning LightWave 3D
Chapter 5 - Mastering The Flyer CD-ROM
Chapter 6 - Flyer Tips & Shortcuts
Chapter 7 - Fixing Flyer Problems
Chapter 8 - Third Party Products
Chapter 9 - Video Marketing 101
Chapter 10 - The Next Level
INDEX
APPENDIX A - NewTek's Flyer Troubleshooting Guide
APPENDIX B - NewTek's Toaster Troubleshooting Guide
APPENDIX C - Video Toaster Flyer Glossary Of Terms
APPENDIX D - Making Your Own Mini-Movie
APPENDIX E - Getting Help and Giving Feedback
Comes with HUGE 520+ Pages Manual and copy of Extras CD in Excellent Used condition.